Thread from October 14th 2022
on problems with using "woman"/"women": Where did this initiative originate which is included in a heavily redacted set of minutes of the CervicalCheck Clinical Advisory Group on Wednesday 23rd October 2019?
Everyone present knew only women get cervical cancer

"Advice had been taken from World Health Organisation and Government documents on the use of gender neutral language, while HSE communications guidelines advise the use of 'gender-neutral text wherever possible'."
What Government documents?
https://www.irishtimes.com/news/health/hse-defends-removing-references-to-women-in-online-cervical-cancer-information-1.4357438
Because the WHO's "Comprehensive cervical cancer control A guide to essential practice"(2014) says
"Cervical cancer prevention programmes aim to screen the largest possible proportion of women targeted by the national programme.."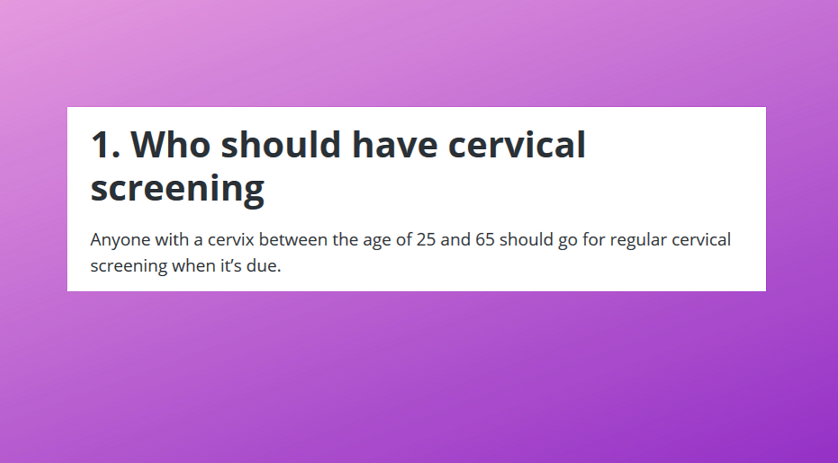 Once the story broke the NWCI's Head of Policy sent this to the National Screening Service and cc'd in the then CEO of TENI (Transgender Equality Network Ireland) Éirénne Carroll and the then chairperson, Sara Phillips (both men) on 2nd October 2020:

On October 21st the NWCI's Head of Policy wrote:

Why was one member organisation of the NWCI getting such special treatment? Especially when many of its members don't need cervical checks.
On November 24th 2020 the NWCI Head of Policy and CEO of TENI wrote to the National Screening Service:
Why was the decision to not include the word women "not fully accounted for"?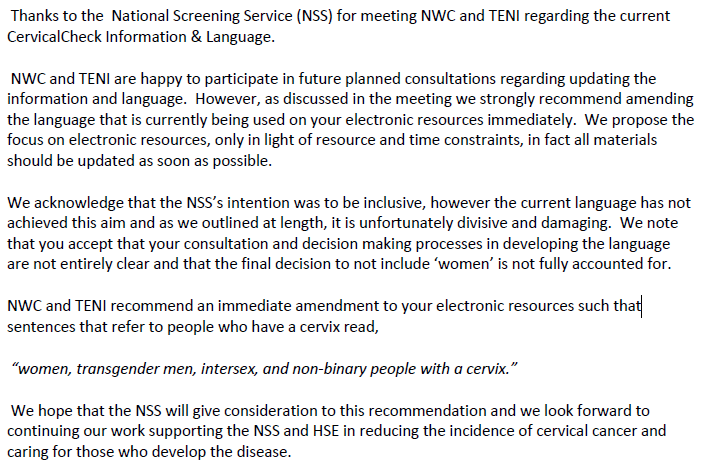 The NSS then announced in a statement:

And the NWCI tweeted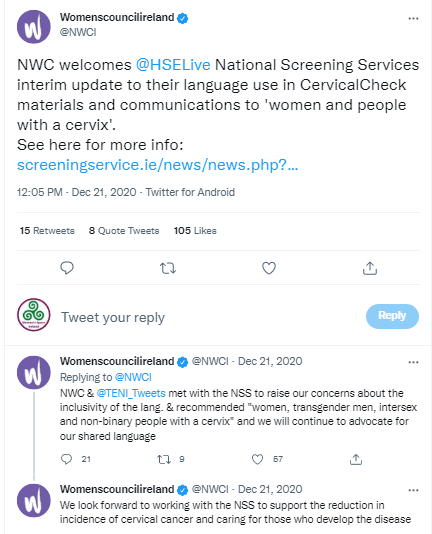 But why were TENI involved at all regarding information designed to protect as many women as possible from the risk of dying from cervical cancer?
What Government advice was being followed in using gender-neutral terms for a disease which only affects women?
After all, as leading obstetrician gynaecologist Dr Peter Boylan said "I think it's simpler just to keep it with 'woman'".
The decision to drop the words "women" and "woman" from a health screening service for women was clearly ideological.
Why did those in a position of responsibility listen to activists  and meet their demands instead of the needs of women?
Information on the HSE website is still unnecessarily confusing.
Dr Boylan:"But the important thing, as I say, to try and maximise the screening for the prevention of cancer - and in that context the use of the word 'woman' is the most appropriate".