Last month Dr Nóirín Russell, the new clinical director of the HSE CervicalCheck screening programme, explained on RTE's Today with Claire Byrne programme what prompted her to want to get involved in cervical screening as a junior doctor in 2001.  
She had found herself having to call a consultant in the middle of the night for a mother of four who had been admitted to hospital haemorrhaging and who had to be brought to theatre. This woman had a cervical cancer which was not capable of being treated. She learnt from the consultant that he saw many, many women like this because there wasn't a screening programme at the time. "That's when I can remember thinking 'I want to be involved in cancer prevention'".
Women's trust in the programme has been eroded Dr Russell acknowledged and she added "I guess there's been a lot of misinformation out there".  
So it's somewhat inexplicable that the HSE would choose to issue misinformation itself by deciding to erase the word women - those its messaging needs to reach - from its marketing.  It's all the more concerning when, as the National Screening Service says itself,
"Population screening programmes are publicly-funded services that are available for defined groups of the population, such as by age or gender.  It is important that all those who are eligible for screening have an opportunity to take up the offer."
---
In December 2019 "In advance of its introduction of HPV cervical screening in March 2020, the National Screening Service (NSS) embarked on a series of tests to make sure that the language used by CervicalCheck was accessible and inclusive of everyone in the population."
According to the research report the Campaign mission was: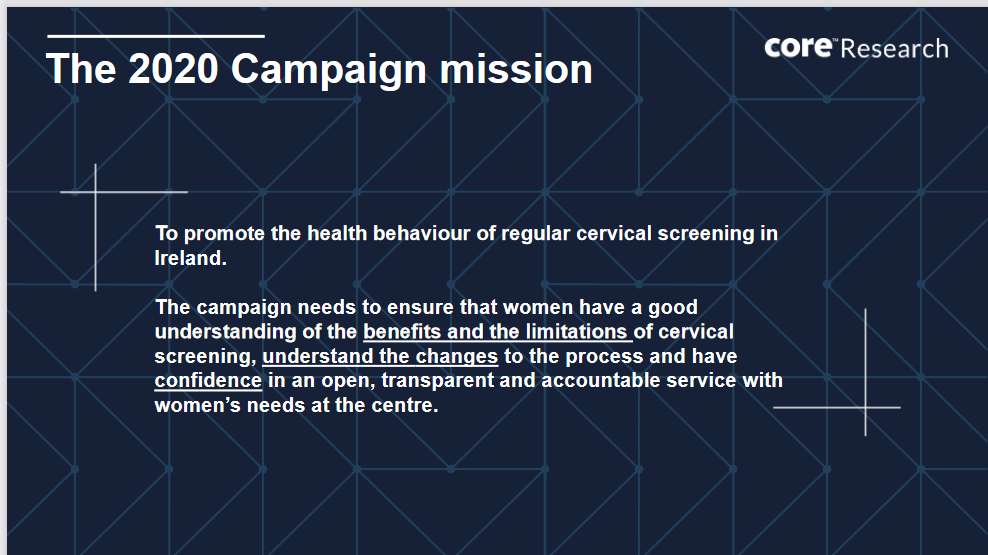 There is no mention of "inclusivity" here. The focus of the research was to make sure women understood that the test had changed, that they understood the benefits and limitations of the test, and that they would be encouraged to attend with "confidence in an open, transparent and accountable service with women's needs at the centre."
Only women were surveyed. "Women and people with a cervix" was used in the materials and "people with a cervix".  The topic guide for moderators included:

There's no mention that those surveyed were told that three years ago Jo's Cervical Cancer Trust in the UK found that almost half of women surveyed (44.2%) did not know what the cervix is.
Given that the participants were all women it's not surprising that they might not have realised the significance of what was being posed.
There is only one comment provided on the use of "women or people with a cervix" and it's simply a note that there were "no issues" with this.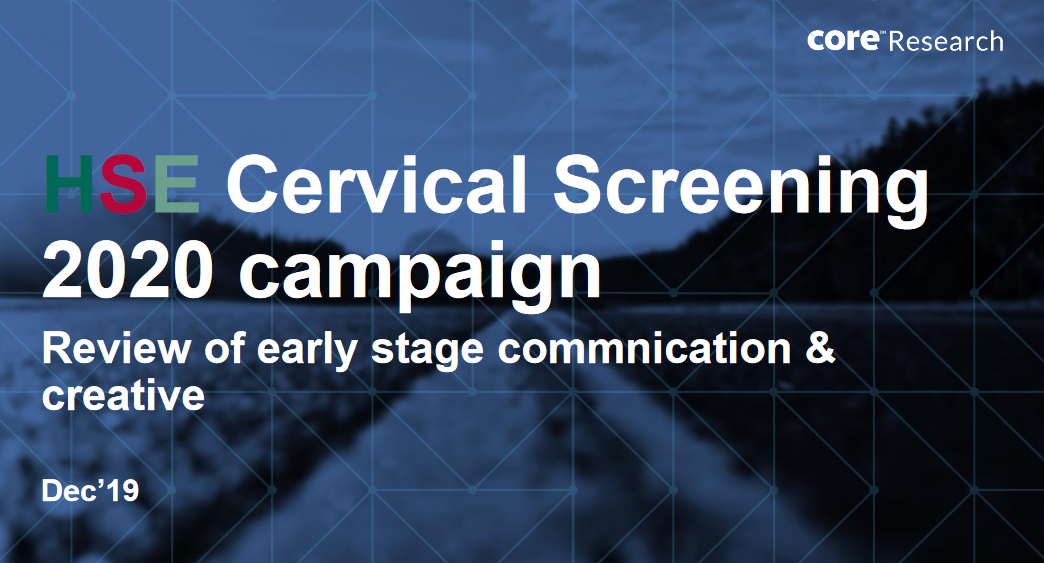 However, a finding in the report is that women "want to see themselves reflected in the comms."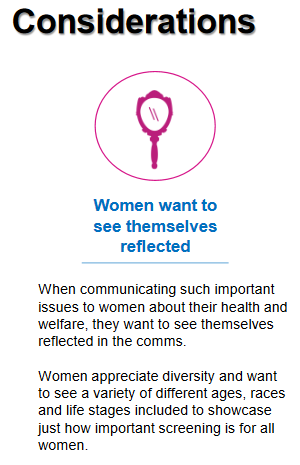 Implicit in this finding is the belief among those surveyed that diversity meant diversity among women. There's no impression from the report that those surveyed were actively thinking that the materials should be "gender neutral" in order to be more "inclusive".
Later, the report notes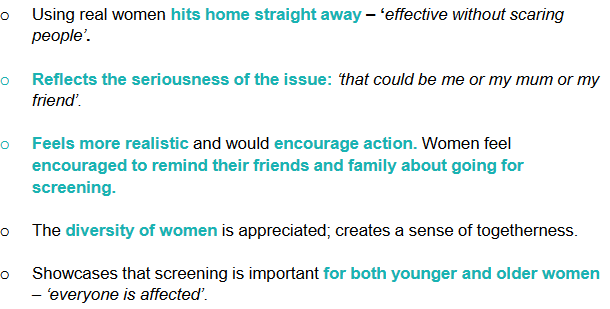 How does this tally with the decision to avoid mention of women altogether?
---
Women is the inclusive word to use for cervical screening
Only women, adult human females, need cervical screening. And the word which will reach the greatest number of them is the word "women", because that is the word the vast majority of us still use for adult human females.  A cervical cancer screening service surely needs to use the clearest and most accurate language in order to reach as many women as possible.
A tiny number of females suffer from gender dysphoria and choose to deal with this by, as they see it, living as males.  They number just 0.0036% of the population according to a 2014 Irish retrospective study.
However the guidance produced on foot of this research avoided using the word "women" or "woman", and instead opted for such phrases as "Anyone with a cervix" and "People with a cervix":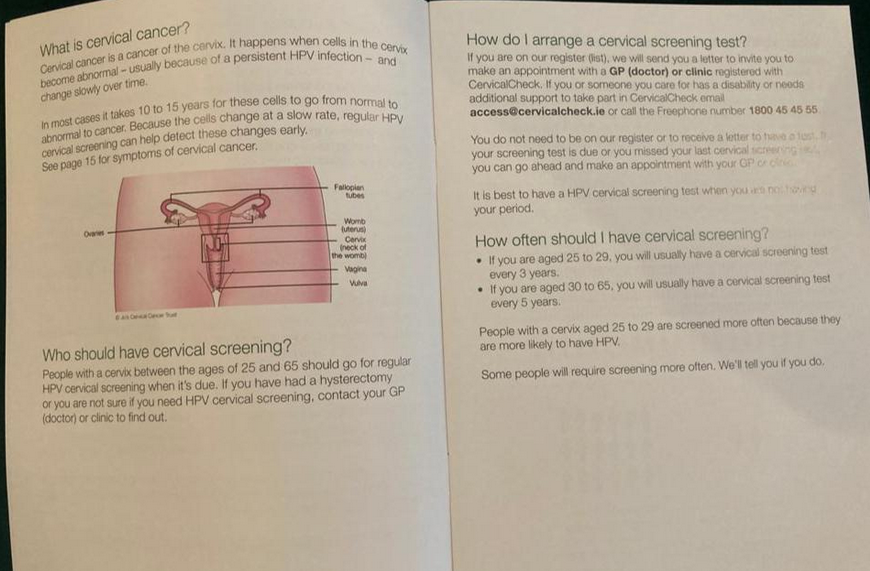 In contrast to the erasure of the word "woman", both "trans woman" and "trans men" were used: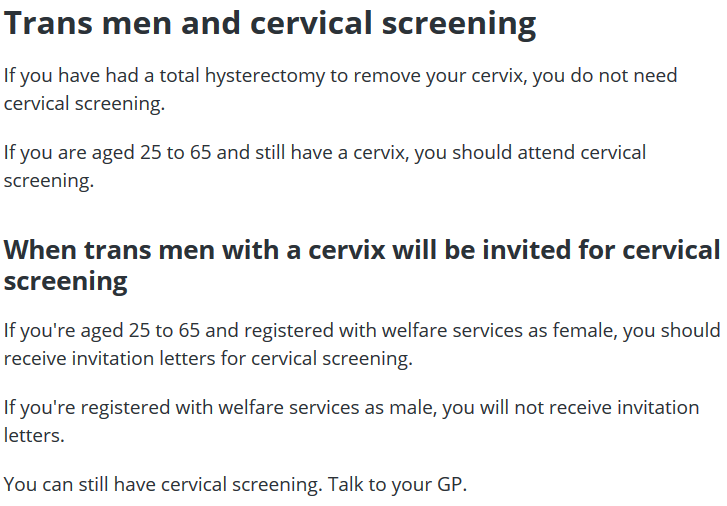 The erasure of the word "women" was the subject of protests by a number of new women's groups
In response to protests by women CervicalCheck said in August 2020 that
Prior to the transition to HPV cervical screening on 30 March 2020, extensive testing was conducted on the CervicalCheck web content, invitation letters, results letters and information leaflets. From this research we learned that the vast majority of the audience were supportive of using gender-neutral language in all communications to users of the screening service.
The HSE aims to use gender-neutral text wherever possible and CervicalCheck has achieved this by using language such as 'anyone with a cervix' or 'people with a cervix' in their communication to service users. Women are the majority of our service users but for the service to be more inclusive, supported by extensive audience testing, it was agreed to use the above language.
However on November 12th the National Screening Service revealed that only 27 women were used to test the sample material with many of them unrepresentative of the target audience:
Core Research tested sample material among 27 women, comprising healthcare professionals (smear takers, practise nurses and GPs), representatives from the NSS's Public Patient Participation panel; and nominees from the Irish Cancer Society, the Marie Keating Foundation and the 221+ Group.
(This replaced an earlier explanation which has since been deleted.  A copy of it can be found on our post of 21st September "HSE inclusiveness excludes 'women' from cervical cancer screening guidance".)
The new explanation shows that although women and/or people with a cervix survived for a time, eventually the word "women" was dropped altogether.

We've since learnt that the NWCI's director Orla O'Connor has said of the HSE
"NWCI and Teni have recommended an immediate amendment to their electronic resources such that sentences that refer to 'people who have a cervix' instead read 'women, transgender men, intersex, and non-binary people with a cervix',"
TENI was reported to be "pleased" that the national screening service was continuing to review its language in order to be "clear and inclusive".  (The NWCI believes that "By 'woman' we refer to any person who identifies as a woman." TENI is a member of the NWCI and its chairperson now sits on the board of the NWCI.)
Changing "women" to a list of words is not making the language clearer nor is it any more inclusive:  
Those who have VSDs/DSDs (Variations or Differences in Sex Development,  ("intersex") are all either female or male and repeatedly ask transactivists not to use them as part of their agenda
Those who call themselves "non-binary" are also all either female or male
Dr Peter Boylan, former chair of the Institute of Obstetricians and Gynaecologists, was asked in October if he believed the wording should read "women and trans men". Dr Boylan replied: "No - I think it's simpler just to keep it with 'woman'."  
He said use of the word 'person' is "confusing": "There are a lot of people for example who might not understand what a cervix is, but they do understand what a woman is."
"And they do understand, for example, that if I have been a woman but have transed into a male, I still have cervix unless I've had a hysterectomy with removal of the cervix."
In order to be as inclusive of as many women as possible cervical screening information should be left to medical expertise and those skilled in using clear, accessible language
---
Although women complained about this issue five months ago it wasn't until November that the NSS asked for feedback "on our new public information and educational resources materials in CervicalCheck". Just before Christmas they announced in response to the protests that
"You said that while you understood that we have a schedule in place to evaluate, develop and improve all our HPV literature, you would nevertheless like to see the word 'woman' inserted on an interim basis, while we work through our longer-term revision process."
The NSS said they were adding "women" to "people with a cervix wherever it appears in our literature."

Women are still being excluded from much of the website information: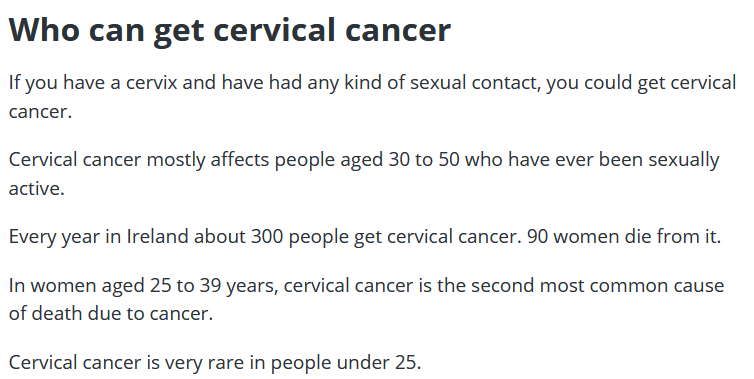 ---
The new clinical director of CervicalCheck is clear that cervical screening is for women
"All I want is the best screening programme possible for the women of Ireland," said Dr Russell who had no problem using the word "woman" or "women" in her interview.  In supporting screening she said we have to "build confidence and trust, encourage women to attend".
"We all want a screening programme that prevents as many cancers as is possible and we need to work collaboratively," said Dr Russell.
"It's really important to me that we have an equitable service."  she added. 80% of eligible women attend for screening but she worries about the 20% who don't. "Every year in Ireland half of the women who are diagnosed with cervical cancer have never had a previous cervical smear."
"We know who they are –  we know that there are women who are marginalised because of socio-economic reasons, some women are afraid of the result, some women have previous sexual trauma, some women have language barriers, we know Traveller women are less likely to partake in screening, women with mental illness.  That's my goal, I want an equitable service which is accessible for all women because this is what will reduce their risk." Using "anyone with a cervix" or "people" is likely to create further barriers to these groups of women.
On the same day that Dr Russell was being interviewed by Claire Byrne the HSE announced the Men's Health in Numbers research findings.  There was no attempt to use gender-neutral language in order to be "inclusive" in the press release. There was also no use of the word "anyone" and 241 uses of the word "men" in the Irish Men's Health Report Card 2020 published.
CervicalCheck is currently sponsoring articles in The Irish Independent such as this one published on December 7th and still online. Neither the word "woman" or "women" appear once.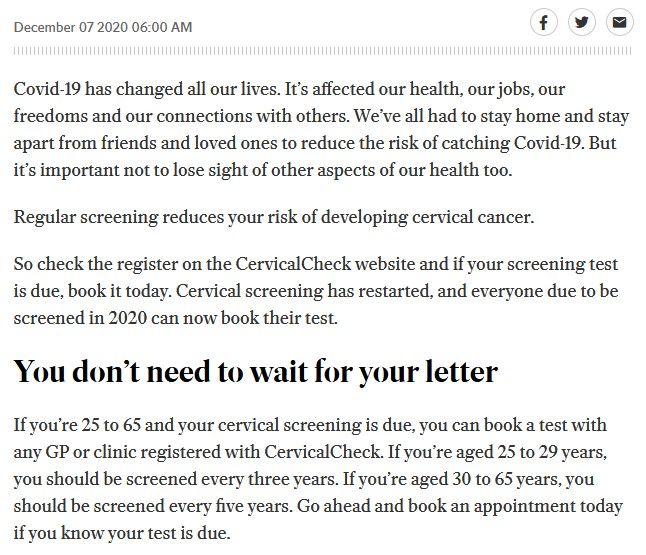 (A new version was put up on January 7th and uses the word "people" five times, "woman" only once and "women" not at all.)*
---
The decision to drop the words "women" and "woman" from a health screening service for women is ideological. It is surely not only detrimental to the success of the screening programme but by extension poses a risk to the lives and health of women in Ireland. As Dr Boylan put it
"But the important thing, as I say, to try and maximise the screening for the prevention of cancer - and in that context the use of the word 'woman' is the most appropriate".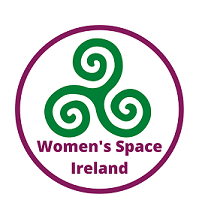 *The version of January 7th has now been replaced with one on January 18th but with the same language applied: no use of the word "women", one of "woman" and "people" five times.  (21st January 2021)