This article was updated on 21.12.20 to take account of some changes the HSE National Screening Service has made following complaints by women.
In women aged 25 to 39 years, cervical cancer is the second most common cause of death due to cancer according to the HSE.
"Every year in Ireland about 300 people get cervical cancer. 90 women die from it," it says, leaving the reader to wonder if this disease affects both sexes.
The World Health Organisation (WHO) points out that screening programmes are only needed where "The disease must have serious consequences."
So it's hard to understand why, given the serious nature of the disease, that the HSE would choose to ignore the WHO's  "Comprehensive cervical cancer control A guide to essential practice"(2014) which says that
"Cervical cancer prevention programmes aim to screen the largest possible proportion of women targeted by the national programme.."  
There is no mention of the term "gender neutral" in the 408 page report. Instead the WHO says
"National cancer control plans should be goal-oriented, realistic, carefully prepared and appropriately funded through a participatory process in order to be effectively implemented."
Is that what has happened here?
According to The Irish Times changes were made to the HSE website last December and it has "defended a decision to remove references to 'women' in its online information about cervical cancer screening."
Instead the guidance on who should have cervical screening doesn't use the word "women", but phrases such as  "Anyone with a cervix between the age of 25 and 65" and "People aged 25 to 29". [Change made below announced 21.12.20]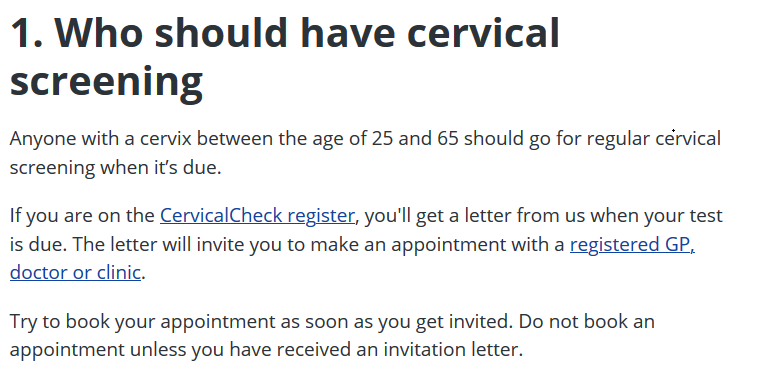 The word "women" doesn't appear at all on the page "When you should have cervical screening".
By contrast there is "Trans men and cervical screening," as are men who identify as women in "If you are a trans woman".  There is also ".. if you are a woman born without a cervix."
And although there isn't a prostate screening programme the HSE does produce "A Guide for Men" with the word "men" used throughout.
Inclusive and accessible language?
The HSE says that CervicalCheck aims to have "inclusive and accessible language in our communications materials" and cites as "key references":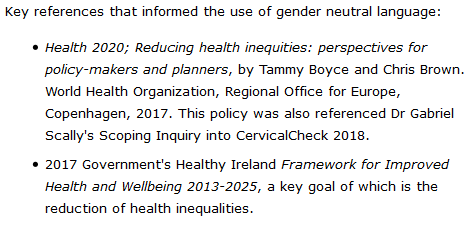 [This statement has since been deleted but is shown here:]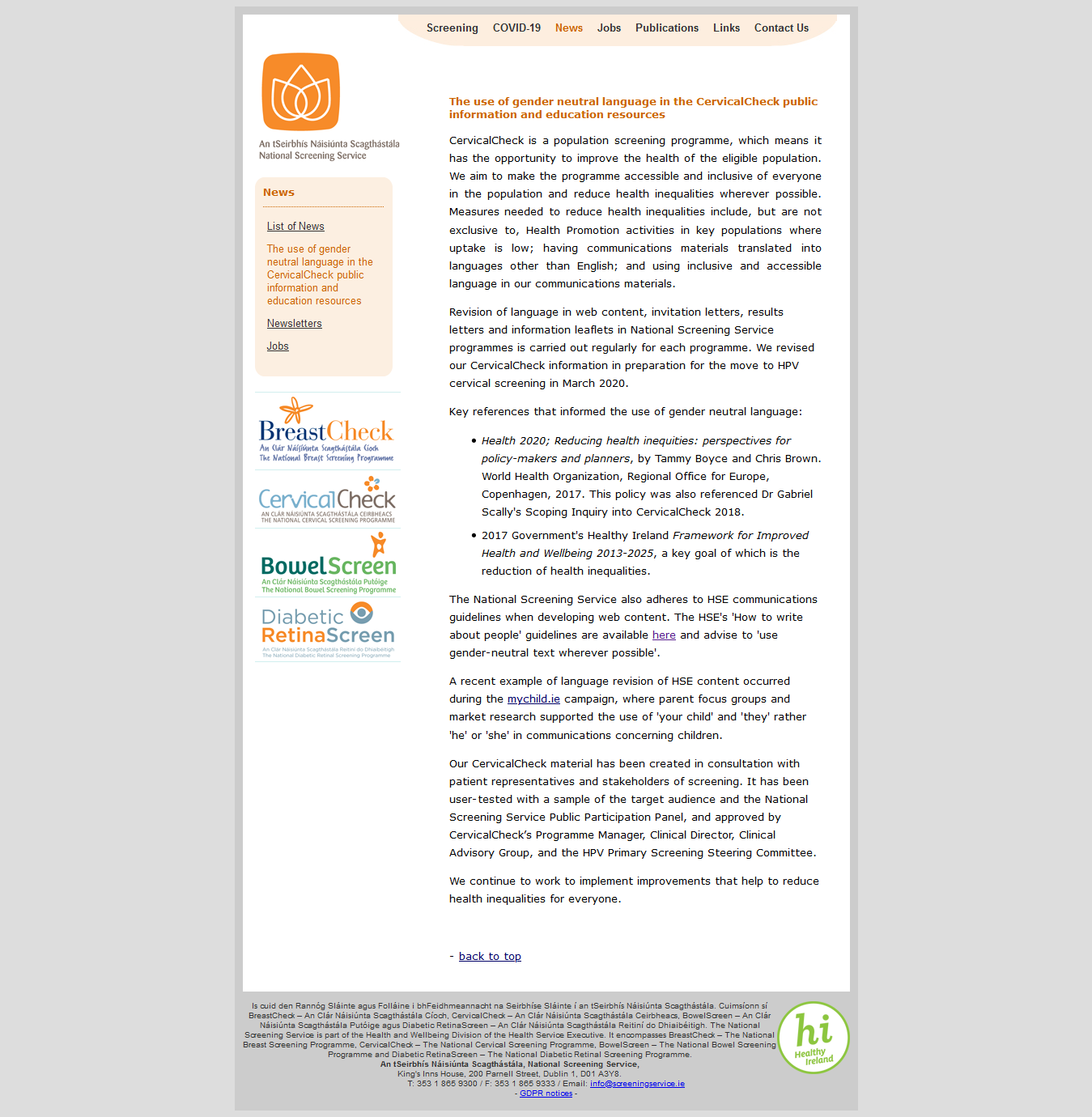 The term "gender neutral" doesn't appear in the Boyce and Brown report which points out that "A study of eight European countries found that almost half of the population (47%) have inadequate or problematic health literacy." This report is concerned with "reducing health inequities across the population, along with the importance of participation and responsiveness, with the full engagement of people."  It says that
Health  literacy  interventions  targeting  the  public  should  aim  to improve  all  individuals'  ability  to  understand health information, which will lead to using these new skills to access and act on the necessary information.
It's also hard to understand why Dr Gabriel Scally was even mentioned here. Dr Scally said last week that
"I did of course recommend that they revise information provided to women on cervical screening"
but he also said
"I have never been consulted on the issue of gender neutral language"
and
"In my experience of cervical screening issues, it's always best to be on the truthful side."
"Women" being omitted in order to meet the objections of a few?
Being inclusive of those who don't want to identify as women through omitting to use the name "women" at all is an abdication of responsibility by the HSE regarding the "full engagement" of women for whom cervical screening is intended.  It also risks excluding those women for whom English is not their first language or who are less well educated than others and may not realise that cervical screening is for them.
In the UK the charity Jo's Cervical Cancer Trust said three years ago that almost half or 44% of women don't know what the cervix is and the chief executive said
"We cannot afford to see cervical screening attendance fall any further. Diagnoses of cervical cancer in the UK are worryingly high and will only increase if more women don't attend screening."
Irish women are rightly saying that "excluding women is not inclusive", and that the HSE should "add rather than exclude". Women are asking why the HSE does not say "women and transmen"?  
Women who have complained were told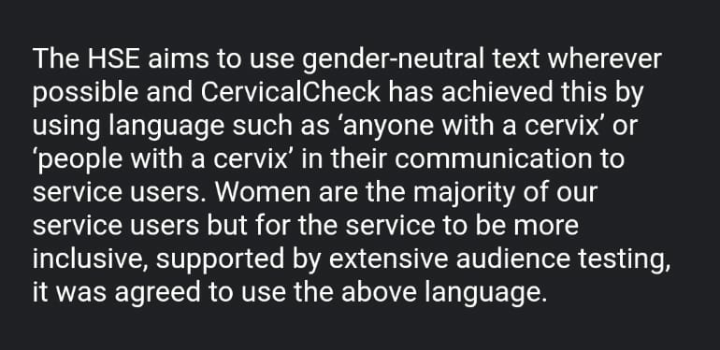 Dr Emma Hilton, a developmental biologist explained in a thread on Twitter about cervical screening programmes
"I've just had a look for WHO guidance specific to cervical screening programmes within a population.
It is fair to say that the WHO know *exactly* who is at risk of cervical cancer, and how to ensure a screening programme is ethically rolled out."
Dr Hilton adds that in trying to reach the population to be screened
"..what that letter should never do is obfuscate language to the potential detriment of the target demographic."
By deliberately omitting the word "women" who are the target audience to be reached for cervical screening the HSE has demonstrated a worrying inability to consider the proper purpose of a national screening programme, a disrespectful and dehumanising attitude to all women and an irresponsible attitude towards marginalised women who may fall through the net of doctors trying to reach all those women who may have cervical cancer.  
Minister for Health Stephen Donnelly T.D. should have "women" included as a matter of urgency so that the lives and health of women are not put at risk through the HSE's use of "gender neutral" language for a sex specific disease.