(Image of web content being edited to make it gender-neutral).
Doctors are to present multilingual resources on cervical cancer to coincide with European Cervical Cancer Prevention week this week 18th - 24th January.
Public health information videos informing how CervicalCheck screening operates and explaining the benefits are to be made available in several languages through the social enterprise, Translate Ireland.
"A joint initiative in partnership with the Together Ireland Community Integration project and Nasc, the Migrant and Refugee Rights Centre, volunteer doctors and others working and living in Ireland from around the globe, contributed to the messaging languages."

This sounds like a good idea since using the plain English term "women" for the only sex which can get cervical cancer is clearly a problem for CervicalCheck in its own messaging materials.  Migrant women who have come to Ireland might indeed struggle to understand which "people" need cervical screening when the word "women" is being deliberately avoided.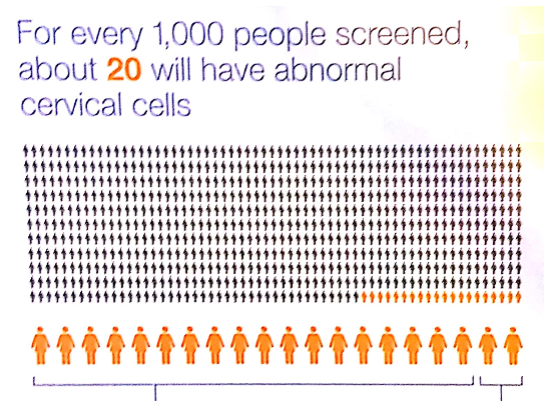 In response to protests by women the National Screening Service announced before Christmas that it was making a change, adding back in "women" to "people with a cervix". However "people" is still being widely used when "women" would be both better understood and more accurate. (See our piece from 9th January, "Placing ideology above women's lives").
Since the end of June 2020 the media spend for CervicalCheck until the end of March this year is €453,000 (inclusive of VAT).
"This includes Search, Digital Display, Video On Demand, Out Of Home, media partnerships (Journal.ie and Independent.ie), radio and digital audio, and social media."
Articles are currently appearing regularly for example in The Irish Independent sponsored section StoryPlus such as this one which only uses the word "woman" once but "people" five times and fails to use the word "women" at all.
The HSE press office says that
"CervicalCheck's current advertising campaign uses images of people in the target audience with language in the second person, such as: "your cervical screening appointment", "next time you come for cervical screening", "check you're on the register". This approach means that a reference to gender was not required."
The HSE has already revealed that its aim for all new advertising, where possible and practical, is to be gender inclusive and women were surveyed before Christmas 2019 to ask what they thought of a gender inclusive description to cover "all women/people with a cervix who don't identify as a woman."  Asked when was this aim decided on and by which division of the HSE the press office said:
"HSE Communications have a published approach and guide to how we write about people, especially when we're creating health information or any digital or print information materials. You can read this guide here on our website."
This guide says "Use gender-neutral text wherever possible."  In the case of cervical cancer which affects only women, that is those of the female sex, it's clearly not possible. Nonetheless the press office says:
"This is a guide for our teams across the HSE and aims to ensure we are inclusive in how we provide health information and advice to everyone in Ireland. We don't have any advertising policy in relation to gender-neutral messages, nor have HSE Communications sought legal advice in relation to this topic or any relevant legislation."
"Our approach to our advertising campaign for CervicalCheck is to reach as much of the target audience as possible with messages that explain cervical screening and encourage the uptake of the service. This approach is echoed in all our health service or health behaviour campaigns. Decisions on advertising copy and imagery are made on a campaign by campaign basis, informed by feedback and insights from the people we're talking to, and reviewed alongside our clinical and operational colleagues in the HSE."
The new Clinical Director of CervicalCheck Dr Nóirín Russell had no problem using the word "women" in her RTE radio interview last month when she expressed concern about the 20% of women who don't attend for screening given that half of those who are found to have cancer have never been screened. However in a new CervicalCheck video this week Dr Russell also uses the word "people" frequently as well as "women":
---
This dehumanising of women was used last week also by the office of Ossian Smyth TD,  Minister of State for Public Procurement and eGovernment with this infographic which says "people who are pregnant":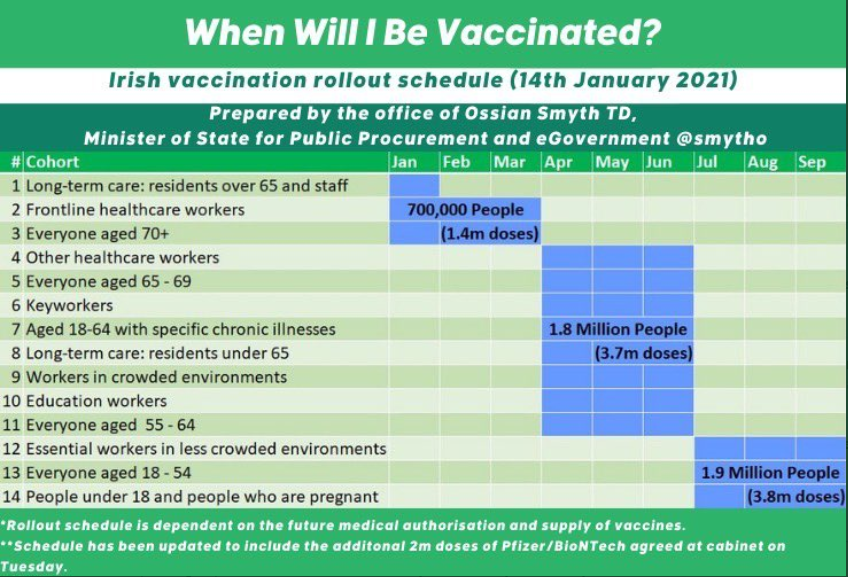 A day later an HSE "Easy Read Guide" regarding the Covid vaccine, proofread by two Co-collaborators & Ambassadors for Intellectual Disability Rights, included this inaccurate language: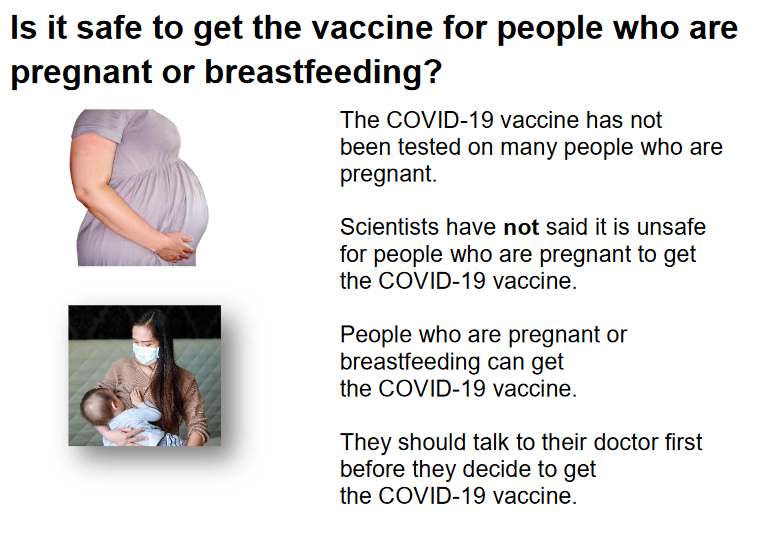 We're still trying to find out which section of the HSE decided that gender neutral language is appropriate for reaching as many women as possible for cervical cancer screening and whether or not the HSE believes it can defend erasing the word "women", the only sex which can become pregnant or breastfeed.