Last week Minister Roderic O'Gorman announced:
In advance of any public consultation the Government has already committed to amending the gender ground in our equality legislation.
The Minister's Department of Children, Equality, Disability, Integration and Youth press office explained in June this year that:
"The Programme for Government includes a commitment to amend the gender ground in equality legislation, to ensure that someone discriminated against on the basis of their gender identity is able to avail of this legislation. Work is underway to examine this commitment in tandem with the action in the National LGBTI+ Inclusion Strategy 2019-2021 to review the Employment Equality and Equal Status Acts to ensure that transgender, non-conforming and intersex people have explicit protection within the equality grounds.
Legislative proposals will be prepared for the consideration of Government in due course."
The existing protections for women and girls under threat
"The review provides an opportunity to review other issues arising, including whether or not further additional equality grounds should be added, whether existing exemptions should be removed or modified and whether or not the existing legislation adequately addresses issues of intersectionality.  The review will also examine issues, which have been raised by IHREC, or raised in the context of reporting to international treaty bodies."
The Equal Status Acts 2000-2018 prohibit discrimination in accessing goods and services on some specific grounds, e.g. the "gender ground". Discrimination on the "gender ground" happens "where there is less favourable treatment of one person compared to another because one is male and the other is female."  This definition is clearly based on sex:

However the Acts do allow for men and women to be treated differently in certain circumstances: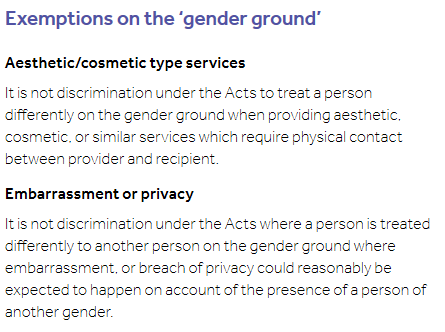 The Irish Human Rights and Equality Commission (IHREC)
The IHREC is "Ireland's national human rights and equality institution. We are an independent public body that accounts to the Oireachtas,".  
It says that
"Transgender persons are protected under the gender ground for the purpose of equality legislation. Specifically, the gender ground means that you are entitled to equal treatment whether you are a man, woman or transgender person."
However last year the IHREC recommended to the Citizen's Assembly that:
"While transgender people are not specifically referenced in the equality acts, the Acts must be - and indeed have been - interpreted in accordance with the EU Directives and under EU law a transgender person who experiences discrimination arising from their 'gender reassignment', or transition, is also protected under the gender ground."
This is because in the preamble to Directive 2006/54/EC of the European Parliament it's noted that

However the IHREC then went on to say
"The Commission is nevertheless of that view that the equality acts should explicitly prohibit discrimination against transgender, non-binary and intersex people."
So the IHREC was asked
"If transgender people are already covered by our equality legislation why would the IHREC recommend that 'The Commission recommends amendment of the equality acts to explicitly prohibit discrimination against transgender, non-binary and intersex people'?"
No answer to this question has yet been received from the IHREC.
"Gender identity" isn't gender reassignment
TENI, the Transgender Equality Network Ireland,  also notes this:

TENI, the Transgender Equality Network Ireland, says that "Some, but not all, trans people undergo surgery to align their bodies with their gender." The 2015 US Transgender Survey reports that among those born male 12% or less had undergone orchiectomy, vaginoplasty or labiaplasty so most are likely to be fully intact males.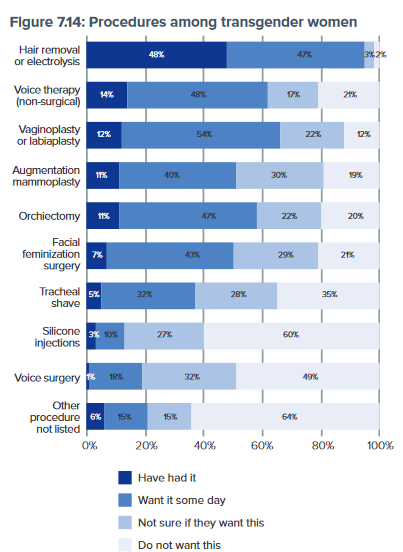 ILGA Europe, (International Lesbian, Gay, Bisexual, Trans and Intersex Association) said as far back as 2009 that
"A recent legal analysis carried out for the EU Fundamental Rights Agency [FRA] may however provide useful insights for the domestic legislator. In response to whether 'gender reassignment' is indeed equivalent to 'gender identity', the study concluded that"


Lobbying for "gender identity" still continues
Last year various gender identity ideology lobby groups such as ILGA and Transgender Europe as well as national ones such as TENI* together with the the EU Agency for Fundamental Rights** contributed to a report "Legal gender recognition in the EU, The journeys of trans people towards full equality" and reiterated that
"The EU does not have an explicit competence to protect the rights of transgender people as it lacks a clear legal basis to protect individuals from discrimination on the grounds of gender identity and/or gender expression as such."
"In addition, the EU framework, as defined by the CJEU [Court of Justice of the European Union], excludes transgender people who cannot or do not want to undergo gender-affirming treatment. This points to the need for a more inclusive ground of protection. Because being transgender is not solely a matter of sex characteristics but also of gender identity, it is questionable to what extent the ground of sex could and should be used to fully protect the human rights of transgender people."
Instead lobbyists have succeeded in securing a commitment from the Government to add this to our domestic legislation even though women have not consented to this nor have we been consulted.  
Why is the Government agreeing to the addition of "intersex"?
The Department of Children, Equality, Disability, Integration and Youth was asked
The LGBTI+ National Youth Strategy in the Glossary of Terms defines "Intersex: A term used to describe people born with physical or biological sex characteristics that do not fit the typical definitions for male or female bodies."  Is the Department aware that those with one of the 40 or more Variations in Sexual Development (or Differences in Sex Development) are all either male or female and have repeatedly pointed out that their medical/genetic conditions have nothing to do with "gender identity" or "sexual orientation" and shouldn't be used by activists?
In response it said:
"The Department is aware of the discussion around the use of the term Intersex. While the Department does not have a particular position on the issue, the definition is included in the LGBTI+ National Youth Strategy to assist readers by providing a glossary of terms used. The definition used is a commonly used description of the term and open to interpretation as any definition is." (response to query, May 20th 2020)
"Gender identity" is a belief. Sex is a biological fact.
Women and girls have not stopped needing privacy, dignity and safety in the provision of such spaces as toilets, changing rooms, hospital wards and services on the basis of our sex.
The demands of some men who believe themselves to have a female "gender identity" doesn't change the fact that their sex remains male. Giving men the right to use women's spaces or services would be to effectively discriminate against women.
Is it right that the Government should prioritize the feelings of some men over the rights of women and girls to privacy, dignity and safety by removing or modifying an exemption in our equality legislation which was provided to protect women and girls?
Public Consultation: submission due by 29th October 2021 link here -
UPDATE: this has now been extended to 29th November: (later amendment to this article)
Further update: this has now been extended again to 8th December (later amendment to this article)
---
*Among the contributors is Peter Dunne of the University of Bristol Law School, a former board member of TENI.
**The director of the FRA is Michael O'Flaherty, former rapporteur of the 2006 Yogyakarta Principles. The report cites the principles repeatedly but acknowledges