Thread from July 4th 2021
"Colm O'Gorman, executive director of Amnesty International Ireland, said that while newspapers were free to run adverts according to their own guidelines, they should respect human rights."
Is "legitimate representation" a human right for  women?
1/5
Women in Ireland seeking to voice our concerns about gender identity ideology were met by this letter last year, signed by Amnesty International amongst others:    
2/5

"Iseult White, a granddaughter of Seán McBride, one of the human rights body's co- founders, said it 'seeks to deny legitimate representation to people and conscience [and] has a chilling effect on society'."
3/5
Amnesty was even singled out in an article by Maya Forstater's lawyer @peter_daly after her win at the UK Employment Appeals Tribunal last month, as @ThePhoenixMag reports:
4/5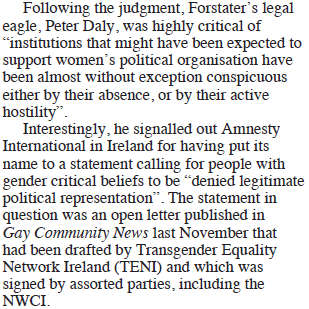 "Amnesty Ireland went furthest of all by putting its name to a statement calling for people with Gender Critical beliefs to be 'denied legitimate political representation'. Even typing that sentence feels implausible."
Indeed.
5/5