RTE reported this morning that the
"...the IHREC said the gender ground in equality legislation should be amended to include explicit reference to and define gender identity, gender expression and sex characteristics.
'In reforming the gender ground, consideration should be given to reframing the exemptions relating to gender to ensure the current protections for trans men and women are not diluted,' the report states."
If transgender people are already covered under our equality legislation as @_IHREC says, why do they require explicit protection under it?
This demand that gender identity be included is not new:

Yet the Public Consultation on the review of our equality legislation was only held after the commitment was given to include it, in 2021.
And the report on the responses has only just been published with the inclusion of "gender identity" proving "contentious":

In the report no less than 84% of responses were to do with this contentious issue of "gender" (meaning "gender identity"):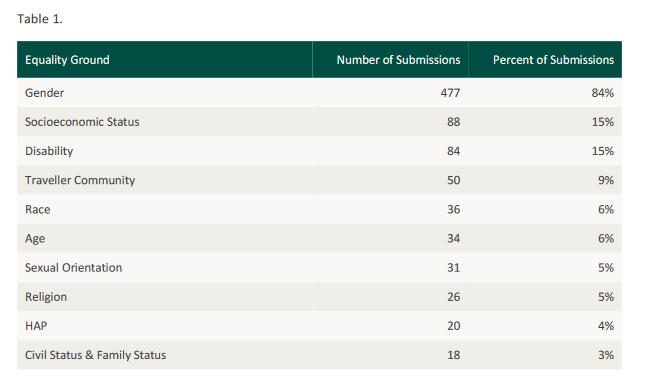 @_IHREC is advancing a particular viewpoint which is unlikely to be widely shared and is hardly impartial.
In its submission to the Citizens Assembly on Gender Equality in 2020 it said:

In a submission to the Scottish Parliament @dsdfamilies points out that it's incorrect to group "biological DSD/intersex states with sexual and gender identities."  
No response was received from IHREC when asked what evidence they have of discrimination against those with DSDs.  
Citizens should continue to be able to discriminate between men and women when sex matters, e.g. changing rooms. The Equal Status Act 2000 currently protects on the basis of sex in such cases where privacy is an issue.  
Asserting that one is "non-binary" doesn't change one's sex.
With a Gender Recognition Certificate or not, sex can't be changed.  Most of the population don't believe in gender identity ideology and we should not be compelled to let the beliefs of a few override the rights of others, particularly women and girls.