At the end of May last year the NHS in the UK quietly changed advice regarding puberty blockers on its website.  Up to the end of May 2020 it had said

This was changed to what's currently online: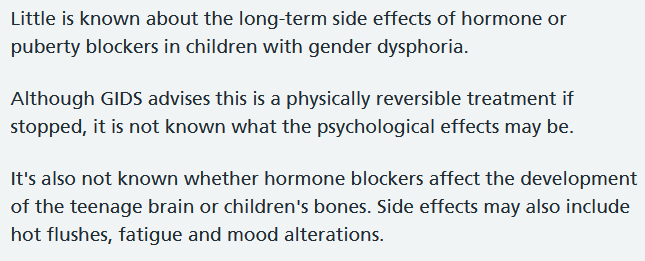 Last June the HSE's said the 2016 "Information for General Practitioners Working with Transgender People" produced with TENI, the Transgender Equality Network Ireland, was an "interim guidance booklet". It was published through the HSE's Primary Care and Social Inclusion team for the South East, and launched in 2017.
"The purpose of the booklet was to support General Practitioners in providing informed and supportive care to transgender patients and their families. TENI are currently working with the ICGP and relevant stakeholders on updating this guidance."
That guide is still online (old link removed but still here, 28th March 2021) and says that puberty blockers are reversible: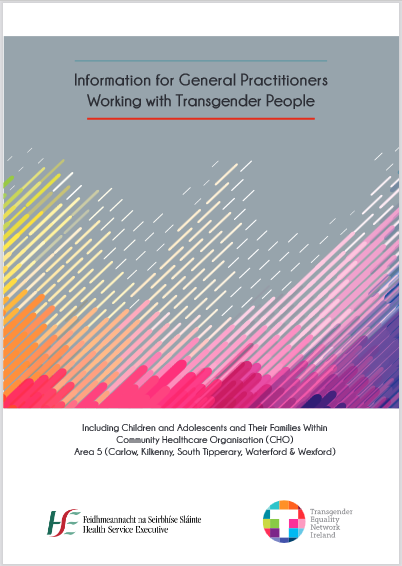 The HSE said last year that TENI were working with the ICGP and relevant stakeholders on updating this. Last month the Quality and Safety in Practice Committee of the ICGP published its guidance and repeated the very same information, in fact the same sentence: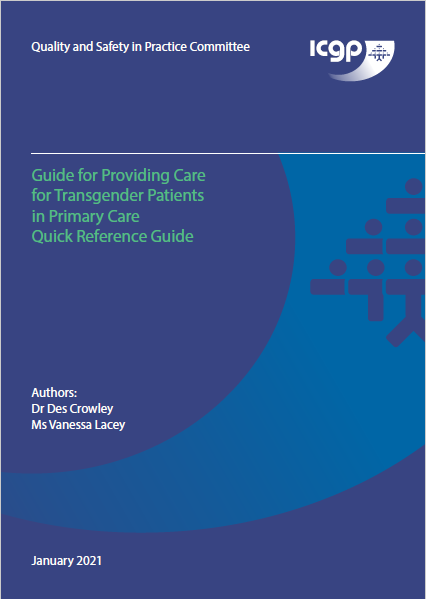 The guide authors are Dr Des Crowley, Assistant Director of the ICGP Addiction Management Programme, and Ms Vanessa Lacey, the Health and Education Manager of TENI, who "has a BA in Psychology and was recently awarded her PhD which focused on grief and loss experienced by trans women and their families", is also a registered member of WPATH and the current Chairperson of TransParenCI.   The ICGP's guide is produced with LGBT Ireland and TENI which has 45 returns of lobbying recorded to date with SIPO, the Standards in Public Office Commission.
---
TENI tweeted that the ICGP had released a new guide for the "affirmative treatment of trans patients". Dr Helen Webberley who has been suspended by the UK's General Medical Council, but says she will continue to supply puberty blockers, also praised the ICGP guidance.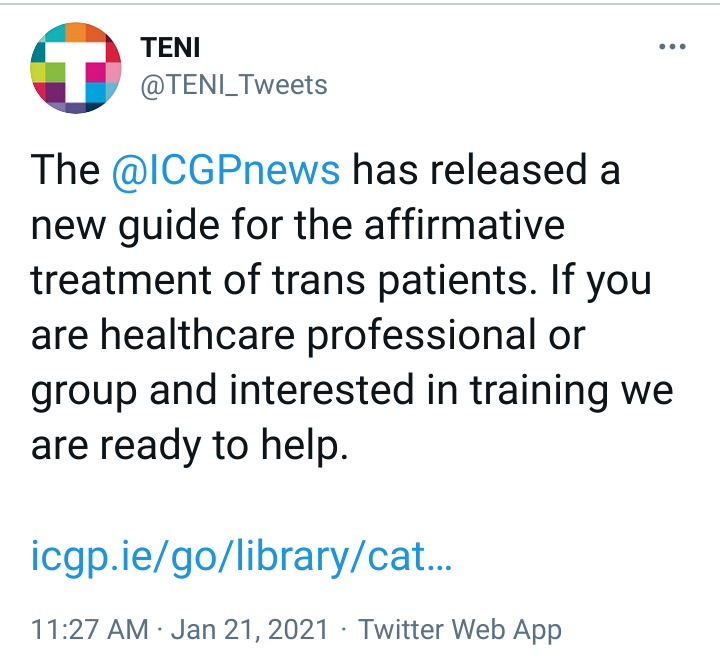 However women in particular pointed out problems they could see with the ICGP's guide.  The advice was questionable not just in relation to what evidence there is in relation to puberty blockers but also in relation to the findings of the High Court in London in the Keira Bell case which is now the subject of an appeal. The Times in the UK reported in December that
"In fact, as the High Court has ruled, their use to treat gender dysphoria is highly experimental, with an unknown long-term effect on adolescent brains and bodies. What was certain, the three judges found, was that most children who began puberty blockers went on to take cross-sex hormones. Because one treatment led to the other, informed consent was required for both."   The ICGP guidance said nothing about a child's ability or otherwise to consent nor did it mention the Keira Bell case. By contrast there were 28 references to TENI.
The ICGP shortly afterwards removed the guidance from its website and replaced it with an amended version last week: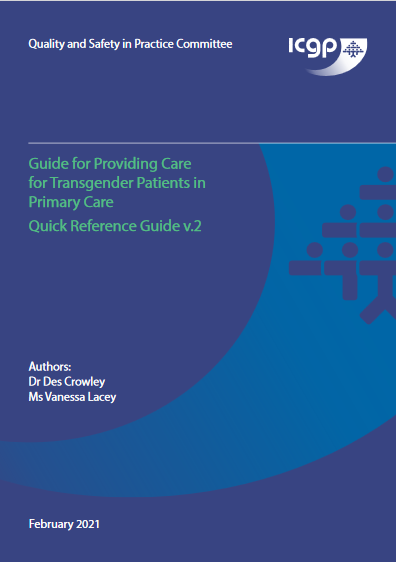 The description of puberty blockers as being "reversible" has now been removed and instead the ICGP says that:

The Sunday Times reported at the weekend that the ICGP had reversed its stance on puberty blockers but the question still remains as to why the ICGP published such guidance.  The newly amended guide still makes no mention of the issue of consent in children, nor of the Keira Bell case, nor of the suitability of referencing WPATH, or of sex being "assigned at birth" or of advice regarding "binders". There are other issues of concern also in the guidance, such as the suggestion that a social transition may be advised for pre-pubertal children.
---
Some points made in the Judgement in the Keira Bell case:
"The evidence shows that the vast majority of children who take PBs move on to take cross-sex hormones, that Stages 1 and 2 are two stages of one clinical pathway and once on that pathway it is extremely rare for a child to get off it."
"Indeed, the statistical correlation between the use of puberty blockers and cross-sex hormones supports the case that it is appropriate to view PBs as a stepping stone to cross-sex hormones."
In its conclusions the High Court said: "..it is, in our view, properly described as experimental treatment."
"In  short,  the  treatment  may be  supporting the persistence of GD in circumstances in which it is at least possible that without that treatment, the GD would resolve itself." [Gender dysphoria]
See also https://womensspaceireland.ie/articles/irish-children-and-the-tavistock/
---
WPATH, the World Professional Association for Transgender Health
criticized the High Court judgement in the case of Keira Bell saying that it strongly disagreed "with the recent judgment of the London High Court in Bell v. Tavistock. We believe this decision will result in significant harm to the affected children and their families. We oppose this ruling and urge that this ruling be appealed and overturned."
(See https://womensspaceireland.ie/articles/coalition-governments-plans/ regarding the coalition Government's plan to create a health policy "in line with" WPATH.)
Dr Stephen Levine, a psychiatrist, who provided an affidavit in a court case in Wisconsin last year said that he resigned from the organisation (formerly called the Harry Benjamin International Gender Dysphoria Association) in 2002 "due to my regretful conclusion that the organization and its recommendations had become dominated by politics and ideology, rather than by scientific process, as it was years earlier."
"WPATH is a voluntary membership organization. Since at least 2002, attendance at its biennial meetings has been open to trans individuals who are not licensed professionals. While this ensures taking patients' needs into consideration, it limits the ability for honest and scientific debate, and means that WPATH can no longer be considered a purely professional organization."
"WPATH explicitly views itself as not merely a scientific organization, but also as an advocacy organization." he says. Its website lists its public statements on a variety of topics from supporting the Yogyakarta Principles, lobbying letters to various governments to statements on topics such as Black Lives Matter.
"In recent years, WPATH has fully adopted some mix of the medical and civil rights paradigms. It has downgraded the role of counselling or psychotherapy as a requirement for these life-changing processes. WPATH no longer considers preoperative psychotherapy to be a requirement." says Dr Levine.
Social transition for pre-pubertal children
The ICGP guidance says that for pre-pubertal children

Dr Stephen Levine describes social transition for the pre-pubertal as "a major, experimental, and controversial psychotherapeutic intervention that substantially changes outcomes."  He says that "..studies conducted before the widespread use of social transition for young children reported desistance rates in the range of 80-98%, a more recent study reported that fewer than 20% of boys who engaged in a partial or complete social transition before puberty had desisted when surveyed at age 15 or older."
"..enabling and affirming social transition in a prepubescent child appears to be highly likely to increase the odds that the child will in time pursue pubertal suppression and persist in a transgender identity into adulthood."
"The risk that supporting social transition may put the child on a pathway that leads to intentional or unintentional permanent sterilization is particularly concerning given the disproportionate representation of minority and other vulnerable groups among children reporting a transgender or gender-nonconforming identity."
A re-evaluation of the evidence, July 2020:
https://www.cambridge.org/core/journals/bjpsych-bulletin/article/sex-gender-and-gender-identity-a-reevaluation-of-the-evidence/76A3DC54F3BD91E8D631B93397698B1A