Government proposal may result in replacement of sex with "gender identity" in equality legislation
This week has seen Stand Up Awareness Week with BeLonG To, the organisation for young LGBT people in Ireland, providing resources for schools "to take a stand against homophobic, transphobic, and biphobic bullying that many lesbian, gay, bisexual, transgender, and intersex (LGBTI+) students experience."
In addition BeLonG To provides interactive online training for those working in the education, youth and corporate sectors in "creating LGBTI+ Inclusive" schools, youth services and workplaces.

"BeLonG To is primarily funded by the Health Service Executive's (HSE) National Office for Suicide Prevention (NOSP), the Department of Education and Skills (DES) and the Department of Children and Youth Affairs (DCYA)," they add.
Discrimination under the Equal Status Acts
The Irish Human Rights and Equality Commission (IHREC) says that the Equal Status Acts 2000 to 2018  prohibit discrimination on ten specific grounds in the provision of goods and services, obtaining or disposing of accommodation and in relation to educational establishments.  Section 7 relates to educational establishments from pre-school to third-level. A parent or guardian can bring a complaint on behalf of their child where the child is a minor.
These ten grounds are gender, civil status, family status, sexual orientation, religion, age, race, membership of the Traveller community, disability and the housing assistance ground (in relation to the provision of accommodation services).
The Equal Status Act 2000 defines "gender" in 3 (2)  "As between any two persons, the discriminatory grounds (and the descriptions of those grounds for the purposes of this Act) are: (a) that one is male and the other is female (the "gender ground"),
However the IHREC also explains that
"Under EU law a transgender person who experiences discrimination arising from their gender reassignment, or transition, is also protected under the gender ground."
BeLonG To however says of the Equal Status Act says that "Sexual orientation and gender, including being transgender, are two of the nine grounds" under which discrimination is prohibited in the delivery of goods and services.

It also says in its online training that TENI, the Transgender Equality Network Ireland, recommends for trans+ young people that

And where overnight trips are concerned

Exemptions on the "gender ground"
However the IHREC points out that the Acts allow for people to be treated differently in certain circumstances. For example under Section 5 (2) (g):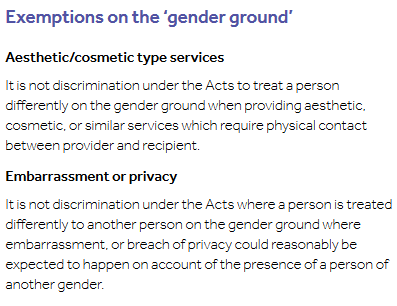 And regarding accommodation the IHREC says

Additional safeguards for child protection in schools
The Department of Education and Skills has already been asked for permission from five secondary schools to install gender neutral toilets for students. And it was reported that the department was also considering design proposals for new primary schools which would see the introduction of toilet facilities which would not be for any specific gender. In what seems particularly concerning it was also revealed that

The Department has also said it "responds to requests made by a school for a transgender toilet based on an established need."  If transgender pupils can have a toilet installed to meet an "established need", do girls not also have an "established need" for single sex toilets?
In January of last year the then Minister for Education Joe McHugh announced additional safeguards for child protection in schools with the introduction of specialised child protection inspections.
"These focused and in-depth inspections will look at how school boards and staff are fulfilling their legal responsibilities in relation to the protection and safeguarding of our children."
Is removing single sex toilet provision for girls is in keeping with school boards responsibilities in relation to the protection and safeguarding of children?
New education bill
Last year the Government published the Education (Student and Parent Charter) Bill 2019 under which each school will be required to prepare, publish and implement a Student and Parent Charter in accordance with national guidelines.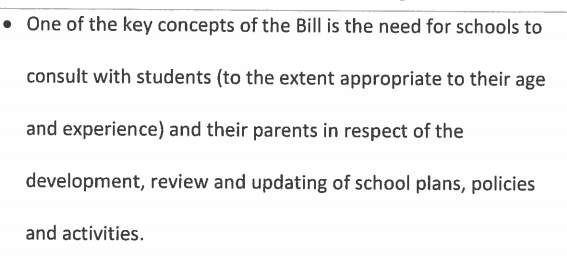 Have girls in our schools yet been asked for their views on allowing male bodies into their single sex spaces such as toilets, changing rooms and overnight accommodation?
The threat to women's and girl's rights under the Programme for Government
Last November's LGBTI+ Inclusion Strategy 2019-2021 sought to "Review the Employment Equality and Equal Status Acts to ensure that transgender, non-conforming and intersex people have explicit protection within the equality grounds." (p.20)
The new coalition government of Fianna Fail, Fine Gael and the Greens have now agreed to "Amend the gender ground in equality legislation, to ensure that someone discriminated against on the basis of their gender identity is able to avail of this legislation." (See Programme for Government, p. 77)
The Irish Human Rights and Equality Commission(IHREC) says:

Will any State agency stand up for girls?
Period shaming is a pressure uniquely suffered by girls. Allowing male bodies into school toilets when girls need a safe space to handle menstruation and ordinary toileting will surely impact on their feelings of safety and privacy.
In 2018 an investigation by The Times found that almost 90% of reported sexual assaults, harassment and voyeurism in swimming pool and sports centre changing rooms happened in unisex facilities, which made up less than half the total.
In Wales a review of how pupils felt about gender-inclusive facilities last year revealed issues such as girls trying not to drink water during the day so as to avoid having to use the toilets to "period shaming" from boys.
Last year The Irish Times reported on a study by Eurofound which said that young Irish women are suffering from the highest levels of depression in Europe. The report stated that 17 per cent of Irish women aged 15-24 are at risk of developing symptoms associated with depression, nearly twice the number of young Irish men who are at risk. Dr Cliona Loughnane, women's health co-ordinator at the National Women's Council of Ireland, said that the figures didn't come as a surprise.
"The type of issues they would bring up when they're talking to us is the impact of sexism in their lives; the pressure they face to conform; their ideas around a certain body image they have to meet; and the sexual harassment and violence they experience," she says.  Regarding what needs to be done Dr Loughnane pointed out that "It all goes back to listening to women and speaking to young women about their experiences and designing a service in relation to their needs".
The Government should be aware of the clash of rights where gender identity meets sex-based rights. We do not wish to see the sex-based rights of women and girls to private spaces such as toilets and changing rooms forfeited to males with an alternative "gender identity". Women and girls have very particular needs and the exemptions provided for under our equality legislation were provided in order to respect those rights.