Last week we learned of another survey carried out in February regarding harassment and bullying across the arts sector which used self-selected participants and statistics corrupted through adherence to gender identity ideology. This is particularly significant in light of the survey's inclusion of sexual harassment which is, unsurprisingly, based on sex.  It says for instance that
"The data found that women were more than three and a half times more likely to experience sexual harassment than male respondents, and were more than twice as likely to experience sexual assault than male respondents."
But what sort of data was it?  The report notes that it was a "self-selected sample".
"As such, the data in this report (the percentages and percentage points) is not derived from a representative sample and does not necessarily represent workers in the arts sector overall."
"Respondents were asked to indicate their gender from the following list: female, male, non-binary, trans, and prefer not to say (Figure 1.1). Respondents had the option to select more than one box to reflect their gender identity and experience. Based on valuable feedback from respondents, we present gender in terms of gender identity only. Therefore, female includes all respondents who identified as female, including those who also selected trans, and likewise for all male and non-binary respondents who also selected trans."
https://www.irishtimes.com/culture/report-finds-culture-of-harmful-workplace-behaviour-across-ireland-s-arts-sector-1.4706697
---
Earlier this month the Dublin Rape Crisis Centre also published the results of a survey which appears to have been based on self-selected participants:
"First and foremost, the Dublin Rape Crisis Centre would like to offer our most sincere acknowledgments to the victims that came forward to participate in the 2018 survey on sexual harassment." https://www.drcc.ie/news-resources/press-release-drcc-calls-for-response-from-survivors/
"Data  was  screened  prior  to  analysis  for  any  hoax  or  incomplete  responses. 12 responses were removed on this basis, leaving the final sample at 940."
"Some 952 individuals aged between 16 and 84 participated in this survey.  Of these, 822 respondents self-identified as women."
"The majority of respondents lived in Ireland (94.4%), while 1.6% lived in the UK, 1.3% in the EU, 1.8% in North America, 0.8% in the rest of the world, and 0.1% did not specify their location."
---
By contrast the new grassroots women's group The Countess, which is campaigning to defend women's rights in the face of the attempt by gender identity ideology to supplant sex, commissioned a far more reputable survey by the Red C poll in June this summer which received little media coverage:
"Our RedC Research poll questioned a representative sample of 1,001 adults last month on a range of gender-related issues. It comes amid growing calls for a public debate over gender- and sex-based rights in the light of controversial decisions such as plans to roll out mixed-sex toilets in Irish secondary schools and the selection of the first transgender athlete to compete in the Olympic Games."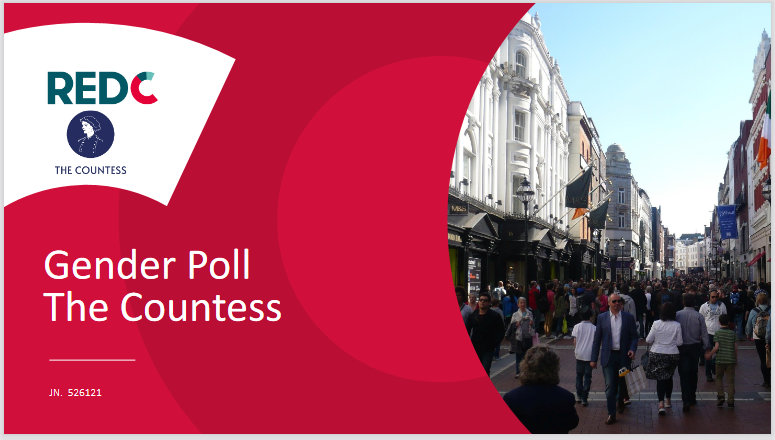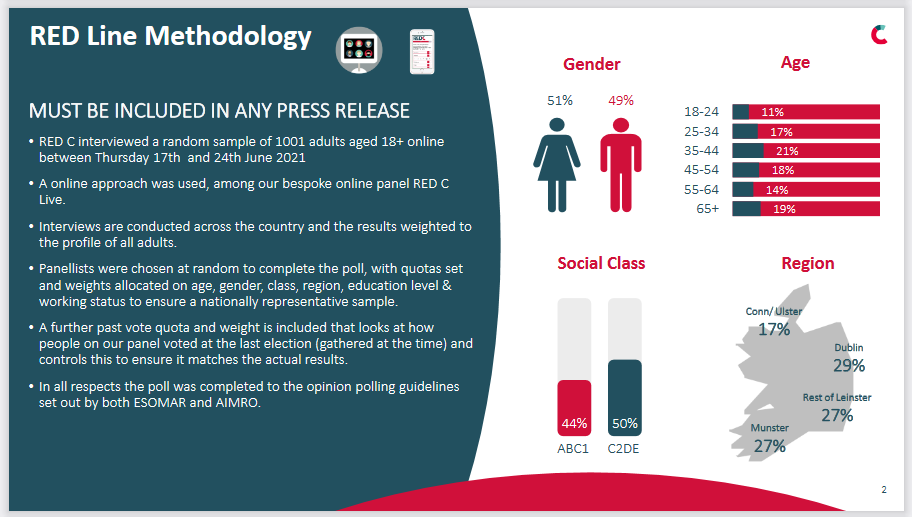 The survey carried out by the RedC polling company was rigorous in its methodology in order "to ensure a nationally representative sample." Red C also used sex, not gender identity, to define respondents.
---
We now face a raft of further legislation based on gender identity ideology some of which poses particular risks to women and children.  These include:
two private members "period products" bills, ostensibly to aid women and girls yet neither bill uses our name "women" or "girls" once [see Free Provision of Period Products Bill 2021 and Period Products (Free Provision) Bill 2021]
a commitment in the Programme for Government to have "gender identity" protected from discrimination under our equality legislation, despite a Public Consultation only taking place now (deadline for submissions 29th November). This may well put at risk the rights of women and girls to privacy as provided by the exemption under the "gender ground" at present
an attempt to force the hand of health professionals in the "ban on conversion therapy" which, by including "gender identity", may make it impossible for therapists and others to do their job without fear of being prosecuted if they do anything other than "affirm" a child in their claimed "gender identity"
a potential threat to free speech on this subject once "gender", including "identity" and "expression" are part of the upcoming Criminal Justice (Hate Crime) Bill 2021
the threat to the psychological and physical health of all children under 16 posed by the extension of "gender recognition" to them, which is ironically included by the Department of Children, Equality, Disability, Integration and Youth in the draft State report to the UN Committee on the Rights of the Child. Submissions to the Public Consultation on this are due by 10th November.