Thread from 20th November 2023

---
This is the report which the Institute for Strategic Dialogue @ISDglobal planned to include Women's Space Ireland in on the evidence of three tweets - one of which was for "misgendering" Lia Thomas in saying he's a man.
Lia Thomas is indeed a man.
"Misgendering fits into ISD's framework under the use of hateful mis- or disinformation narratives to describe and/or target the LGBTQ+ community,"
said the ISD in an unsigned email. Saying a man is any sort of woman is clear #disinformation.

In February Minister for Tourism, Culture, Arts, Gaeltacht, Sport and Media Catherine Martin said that
"'We know that disinformation is complex and damaging.'"
The ISD sits on a sub-group of the new National Counter Disinformation Strategy Working Group.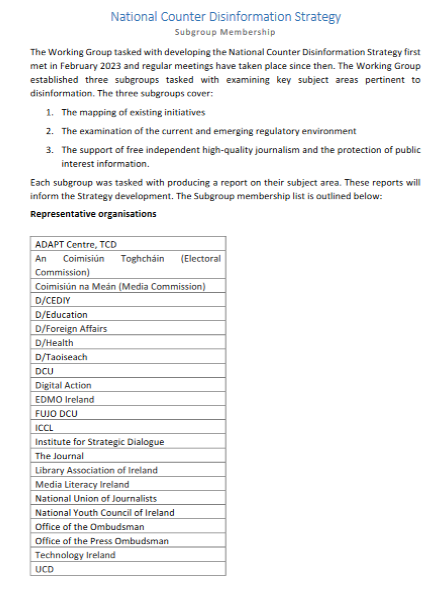 The Institute for Strategic Dialogue is a London based organisation. Here's a link to the first of three reports on their website: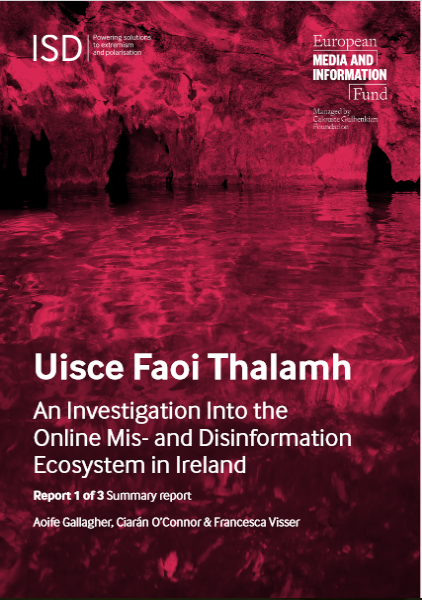 "The establishment of the Working Group arises from a recommendation in The Future of Media Commission report, which called for 'a more coordinated and strategic approach to combat the damaging impact of disinformation on Irish society and democracy.'"
Some €129,997.70 funded "Uisce Faoi Thalamh: An Investigation into online disinformation in Ireland" by ISD with CASM Technology LLP (UK) funded by the European Media and Information Fund.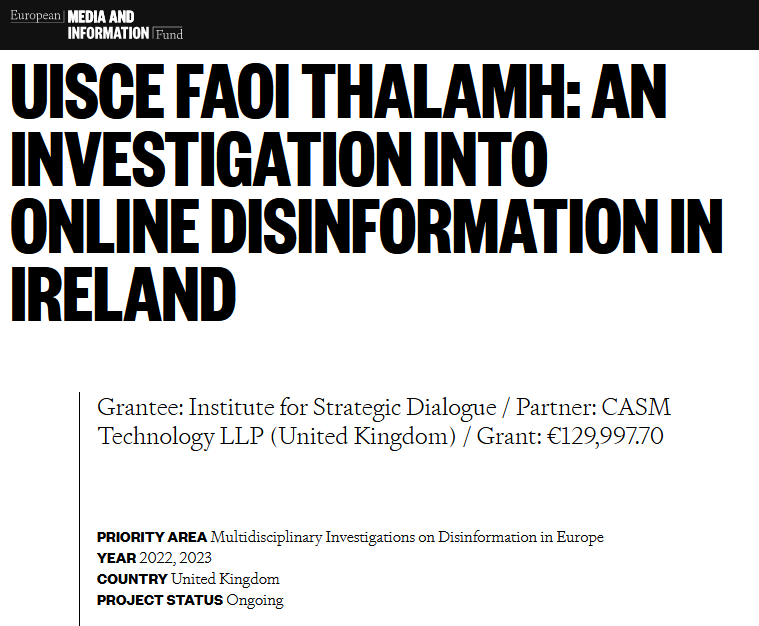 The European Media and Information Fund has fund partners in the Calouste Gulbenkian Foundation, the European University Institute and Google as a donor.
"The study by the Institute for Strategic Dialogue (ISD) also shows that tech companies are failing to enforce community guidelines to curb the spread of false, misleading and harmful content on social media platforms."
Clearly promoting gender identity ideology disinformation is already having a damaging effect on Irish society and democracy: women, the largest stakeholder, were never consulted on allowing men to deceive others as to their sex which has led to e.g. men in women's prisons.
If Government is serious about stopping the spread of disinformation it clearly needs to get its own house in order first. The 2015 Gender Recognition Act embeds disinformation into our legislation by legalising #SexDeception - a clear #SafeguardingFail.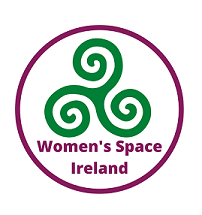 The other two reports: