Last week the South East Technological University (SETU) launched its new Gender Identity and Expression policy. Ms Colfer who is is a lecturer in world religions at the college said that she will refuse to comply with its new gender identity policy.
She said while she had no personal objection to using anyone's preferred pronoun or name, her main issue of concern was the compulsory nature of the policy.
"My objection to the policy is on the grounds that it states that to refuse to use preferred pronouns or names is an example of unlawful discrimination or harassment.
"I've huge concerns about that."
Ms Colfer added:
"So, if a student refuses to use those pronouns or a staff member, and also if they refuse to use them even when the person is absent which is also hugely concerning to me.
"You're ending up policing language."
The Government has since let the cat out of the bag in revealing that the only way the ordinary citizen can establish the veracity or otherwise of this new policy being legal is to take an action in the courts.  
Minister Roderic O'Gorman, whose brief includes equality, immediately responded to a question posed by Gript's Ben Scallan by saying he couldn't comment on an individual case as that would probably end up before the Workplace Relations Commission (WRC) nor would he give an answer as to the general question as to whether "misgendering" someone in the workplace could be considered "unlawful discrimination or harassment" in theory. There's surely no need for any case to be taken to the WRC if the law is clarified for the public or SETU amends or withdraws its guidance if it's not legally correct.
Yesterday Gript reported that Minister O'Gorman's Department initially responded to the question as to whether refusing to use a person's preferred pronouns could be an example of unlawful discrimination or harassment in a workplace setting by offering a simple outline of the Equality Acts which are the Employment Equality Acts 1998-2015 and the Equal Status Acts 2000-2018.  It added:
"…The Workplace Relations Commission (WRC) hears discrimination complaints under the Equality Acts. The WRC deals with both employment and service/goods related claims. The Irish Human Rights and Equality Commission provides information to the public on their rights under equality law in Ireland."
But the IHREC is not doing this either.  Several questions put to IHREC have gone unanswered such as:
Can you let me know please whether or not Irish law only allows for an exemption under gender where gender is defined under the Equal Status Acts 2000 - 2004 as being either male or female? In other words is there any existing legal right for someone to claim the right to use facilities of the opposite sex on the basis of "gender identity" under domestic law? (sent 13th November 2020)
and
"While transgender people are not specifically referenced in the equality acts, the Acts must be -and indeed have been -interpreted in accordance with the EU Directives and under EU law a transgender person who experiences discrimination arising from their 'gender reassignment', or transition, is also protected under the gender ground" is what the Commission told the Citizens Assembly. This only appears to cover those who have had "gender reassignment".
If transgender people are already covered by our equality legislation why would the IHREC recommend that "The Commission recommends amendment of the equality acts to explicitly prohibit discrimination against transgender, non-binary and intersex people"? (sent 7th May 2021)
and
Can you confirm that it is still the case that it is not considered discrimination under the ESA for women to have the right to single-sex facilities such as toilets as provided under Section 5 (2) (g) of the 2000 Equal Status Act? This would appear to mean that men who call themselves transgender, or who "identify" as women do not currently have the right to use women's toilets in the workplace.  Can you please confirm if this is correct or not? (sent 1st June 2022)
The IHREC even has a Customer Service Charter which says: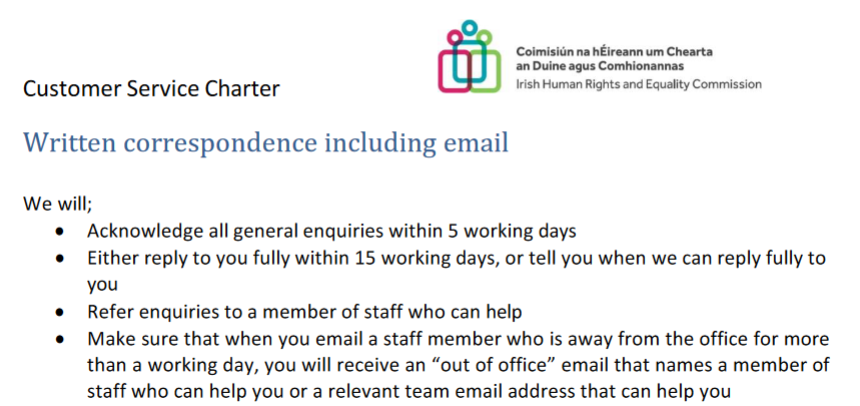 Under the Irish Human Rights and Equality Commission Act 2014

---
Two and a half years ago Niamh Smyth TD asked the Minister for Social Protection Heather Humphreys three very straightforward questions which go to the heart of the 2015 Gender Recognition Act: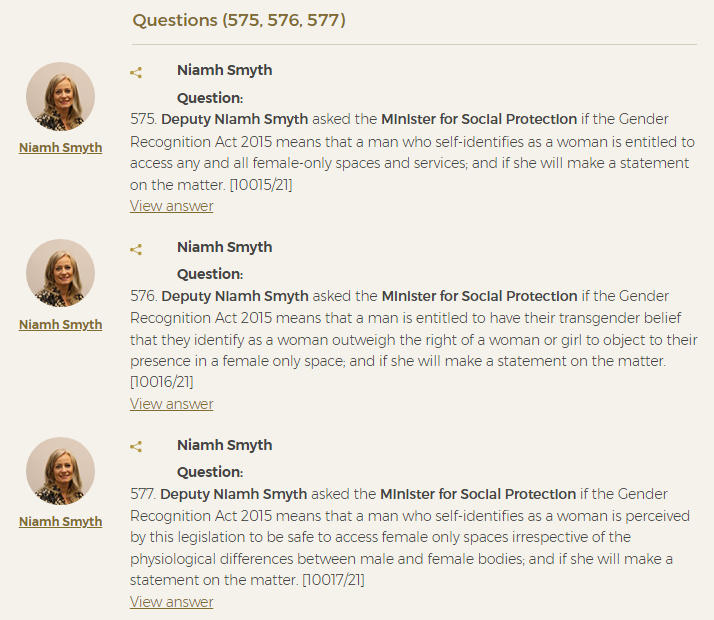 to which the Minister, whose Department handles the provision of Gender Recongition Certificates, replied:

So it's little wonder that bodies such as IBEC, the Irish Business and Employers Confederation, now suggests to its members not only that
Every employee should have the right to use the bathroom/changing facility which aligns with their gender identity regardless of the sex they were assigned at birth. The organisation may facilitate a request by the employee to use a single-occupancy or unisex bathroom/changing facility during the transition process.
but in a "Sample Gender Identity and Expression Policy" goes further and says: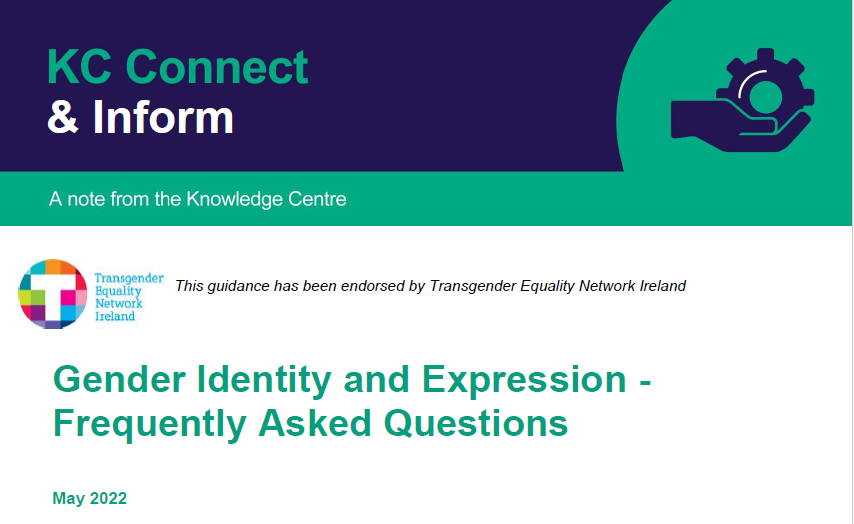 Asked last year if IBEC was confident the advice it is giving to members is legally correct the response received was:
"Ibec's role is to assist members with the development of policies and procedures that are legally sound and adhere to the principles of equality in the workplace."
IBEC also said that
The Ibec guideline published recently was prepared by our own team and developed in response to those member queries on how to engage with employees and communicate on these issues, where they arise in the workplace.  Our engagement with TENI was undertaken to ensure that the language used in the guideline is consistent with that used by the transgender community and we welcomed the fact that TENI endorsed our guidance as being a practical and sensible support for employers. (June 2022).
---
Misrepresentation of the law has been a feature of the debate taking place elsewhere, as in the UK where activists have sought to conflate ideology with what existing law actually says.
Activists successfully convinced the Oireachtas to pass the Gender Recognition Act allowing misrepresentation of one's sex to be legalised through "self-id", a simple witnessed form.
Gender identity ideology on which this is based is now being advanced further through Irish society and legislation.
Without any adjudication on this by the Workplace Relations Commission or our courts the public are being expected to go along with the requirements of this ideology or risk being seen as being "unkind" or lacking in "decency".
It's yet another twisting of language to mean the very opposite of what's intended. Telling women to "be kind" in accepting men in our spaces is anything but. It's bullying and puts women not just ill at ease but poses a safe-guarding risk for women and girls.  
Normalising the incorrect identification of someone's sex is the real "misgendering" and is gaslighting other people.  It also poses a safeguarding risk to women and children when any man is incorrectly described - using "preferred pronouns" as a woman, rather than the man he is.  
Correctly sexing someone yet being accused of "misgendering" is yet another weaselly way of trying to coerce others into complying with gender identity ideology.
With a risk of legal sanction it becomes compelled speech.