Thread from September 22nd 2022
Deciding not to express an opinion for fear of negative consequence is known as self-censorship.
"When this happens at a general societal level, or among a particular community or profession, it is known as a chilling effect."
Even before the Criminal Justice (Incitement to Violence or Hatred and Hate Crime) Bill 2022 is discussed in the Oireachtas we already have many people afraid to say what they think about the promotion of gender identity ideology and its effects on society.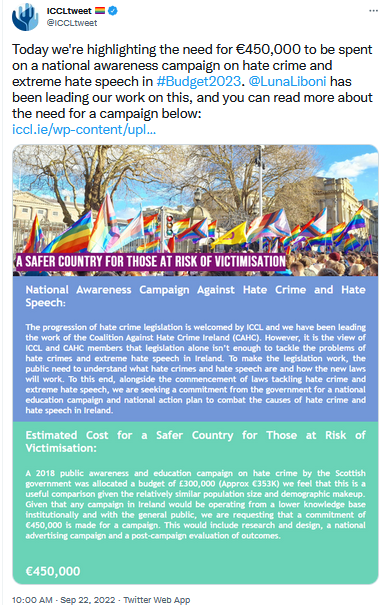 Now "Ireland's oldest independent human rights body", the Irish Council for Civil Liberties is seeking €450,000 in a pre-budget submission to promote the upcoming bill.
@ICCLtweet which is a company limited by guarantee had income of €609,414 in 2020: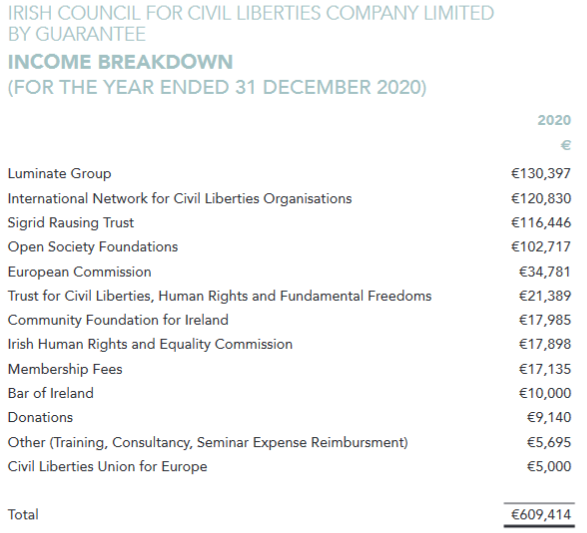 What's one significant addition to our existing Prohibition of Incitement to Hatred Act 1989 which  protects race, colour, nationality, religion, ethnic or national origins, membership of the travelling community and sexual orientation? https://www.irishstatutebook.ie/eli/1989/act/19/enacted/en/print.html
"Gender" which "includes gender expression or identity".
Disability is also added. https://www.justice.ie/en/JELR/General_Scheme_Criminal_Justice_(Hate_Crime)_Bill_2021.pdf/Files/General_Scheme_Criminal_Justice_(Hate_Crime)_Bill_2021.pdf
In June 16 NGOs thought it appropriate to criticize the airing of the views of those who are concerned about the threats to women's rights in removing the word "woman" from the 1994 Maternity Protection Act on RTE's #Liveline, characterising it as being carried out by a "co-ordinated group of organisations who actively deny the basic humanity and rights of trans and non-binary people."
The ICCL to its shame was one of them. https://archive.ph/6INEm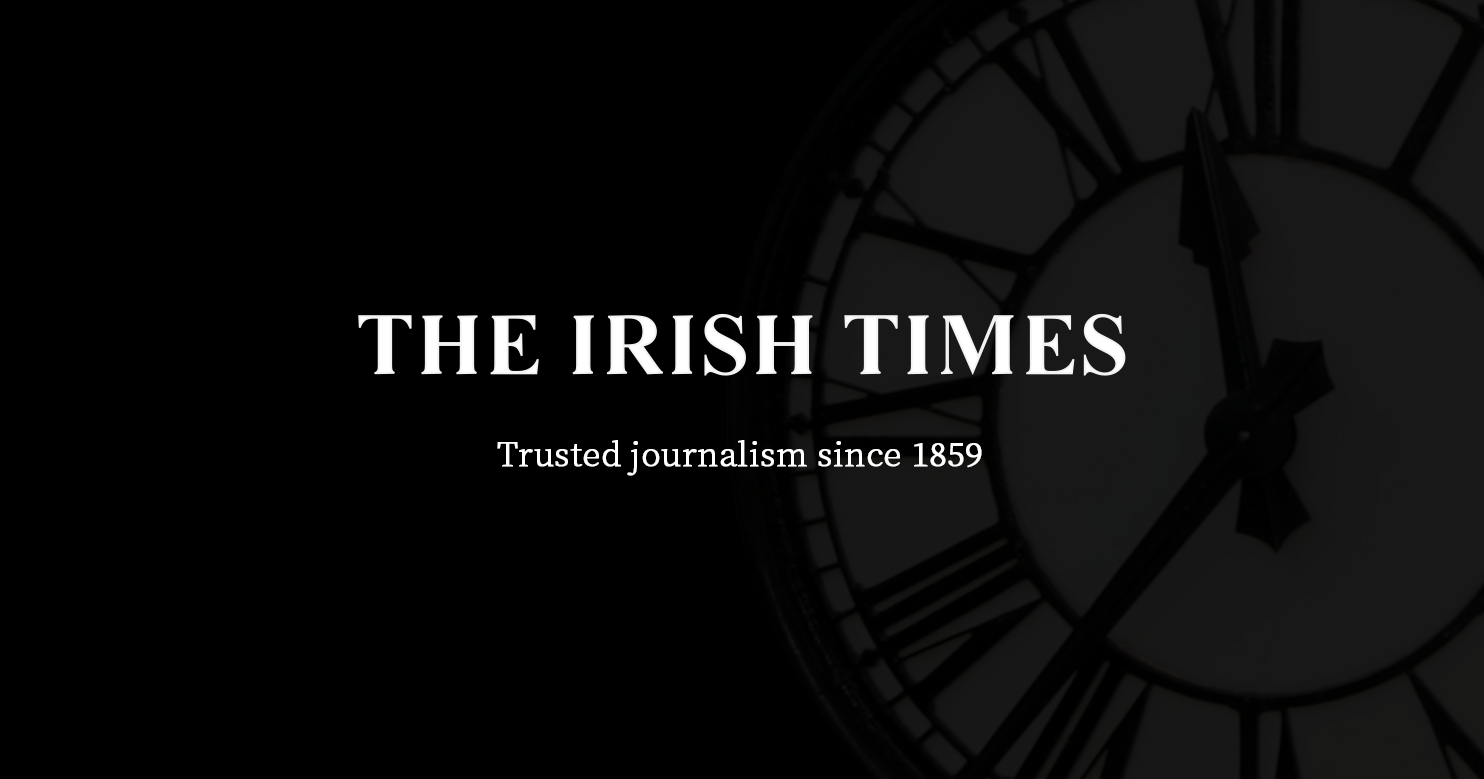 And in July Minister @HMcEntee announced a change to the proposed legislation to make it easier to secure convictions: https://www.gov.ie/en/press-release/0f17e-minister-mcentee-to-update-new-hate-crime-legislation-to-make-it-easier-to-secure-prosecutions-and-convictions/
Who might have asked for this?
If @ICCLtweet really wants to "speak truth to power" & "promote human rights, protect civil liberties" as Kader Asmal envisaged, perhaps it might sit at the other side of the table with women who are being silenced through the promotion of gender ideology.
After all, if women are not allowed to discuss their own rights and needs on @rteliveline will the upcoming hate crime legislation make it any easier? Or might it increase the "chilling effect" we're already feeling? As librarians throughout Ireland may be experiencing today?
Why not use that €450,000 of taxpayer's monies to provide shelter to our vulnerable homeless women as highlighted in the news this week? It would certainly help the ICCL retain its claim of being "fully independent of government".